ClimateMaster has achieved an efficiency breakthrough with the introduction of the Trilogy™ 40 series, the first geothermal heat pumps ever certified by the Air Conditioning, Heating, and Refrigeration Institute (AHRI) to exceed 40 EER at ground-loop (GLHP) conditions.
The revolutionary new Trilogy™ 40 utilizes variable speed technology to provide an extremely wide range of heating and cooling capacities, with the ability to perfectly match loads to as low as 30% of maximum. In addition, patent-pending Q-Mode™ technology produces year-round domestic hot water on demand, even when space conditioning is not required.
The Trilogy™ 40 Q-Mode series is the outcome of a five year collaboration between ClimateMaster and Oak Ridge National Laboratory (ORNL), which was sponsored by the U.S. Department of Energy (DOE) Building Technologies Program. Based on field tests and analysis by ORNL, the Trilogy™ 40 Q-Mode can save 55-65% of annual energy use and cost for space conditioning and water heating in residential applications versus new minimum efficiency (SEER 13) conventional systems and 30-35% versus current state-of-the-art two-stage geothermal heat pumps.
"ClimateMaster has a solid track record of leadership and innovation since its founding in 1957," said Daniel Ellis, President. "We are very proud to continue that legacy with the launch of the new Trilogy™ 40, which is 33% more efficient than any other geothermal heat pump available and the only one with Q-Mode technology to provide year-round water heating."
In addition to efficiency, the Trilogy™ 40 Q-Mode delivers unsurpassed comfort and humidity control by precisely matching its capacity to the heating and cooling load. For installing and servicing contractors, it also offers the latest technology to configure and diagnose the system electronically using communicating controls and sensors that monitor every critical aspect of system operation to ensure peak performance.
"The Trilogy™ 40 Q-Mode represents a major breakthrough in comfort and efficiency," said John Bailey, Sr. Vice President of Sales and Marketing at ClimateMaster. "With variable speed fan, pump and compressor (Trilogy™ technology) plus four operating modes (Q-Mode technology), it far exceeds the capabilities of any other HVAC unit on the market today. Plus, it can completely eliminate the use of auxiliary heat even in far Northern climates."
Unit Features - Trilogy™ 40 Q-Mode
Trilogy™ 40
The first geothermal unit to surpass 40 EER utilizing "Trilogy™" of Variable-Speed technologies:

Variable-Speed Inverter Compressor
Variable-Speed fan motor
Variable-Speed Water Pump
Q-Mode
Patented Q-Mode™ delivers comfort and efficiency in four modes - space heating, space cooling, hot water while space cooling and dedicated hot water when not in space cooling mode.
Domestic Hot water is a significant portion of a home's energy usage. Q-Mode not only significantly reduces home heating and cooling energy costs, it also delivers year round, dedicated hot water to further reduce energy usage.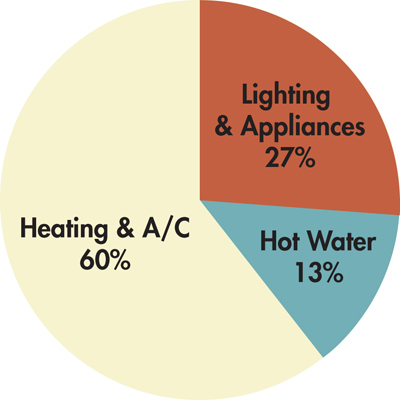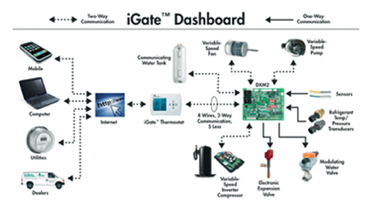 Click for a larger view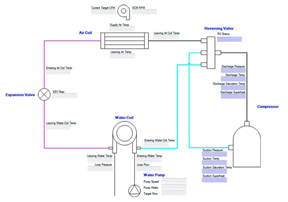 Click for a larger view
iGate™ Dashboard
First in the industry to monitor refrigerant, air and water conditions (temperature, flow and pressure)
Dashboard in to system – uses 15 sensors to precisely control the system and display system status and troubleshooting information

vFlow™
Varies water flow to match unit capacity, which improves unit operation and reliability.
Reduces water pumping power by 60-80% compared to traditional external pumping modules, which can save over $100 per year in a an average 2,000 square foot home.
Dealer Benefits

Communicating controls:

Displays all information in plain english on communicating thermostat/diagnostic tool.
4-Wire connection from thermostat to unit

Easier, quicker installation:

The Trilogy's internal flow controller saves labor time in not having to install an external flow controller.
No dip switches on the control board make installation even faster and easier because the Trilogy™ adjusts to conditions.

Ease of access:

The Trilogy's swing-out control board and removable panels from three sides of the unit allow for easy service access.


Service technician's dream machine:

The advanced monitoring and diagnostic sensors along with the communicating control tell the homeowner and installer of any problems with the unit.
The thermostat's Installer Mode displays the conditions at the time of the fault as well as calculations of superheat/subcool
Consumer Benefits
Trilogy™ (Variable-speed compressor, fan and circulator pump) delivers 33% higher efficiency compared to any other geothermal heat pump available.
Extra high efficiency (EER 40+) produces significant energy savings.
Highest efficiency in the industry and superior comfort: Trilogy™ delivers superior temperature and humidity control because it modulates the capacity of the unit to meet demand and controls the temperature of the air coil more effectively as a result of being a variable-speed unit.
Operation slows down when the demand is low and runs in part load, which results in ultra-quiet operation.
Heat pump installation qualifies you for a 30% Federal tax credit.
ASHRAE/AHRI/ISO 13256-1
Model
Capacity
Ground Loop Heat Pump
Ground Water Heat Pump

Full Load 77°F
Part Load 68°F

Full Load 32°F
Part Load 41°F
Cooling 59°F
Heating 50°F

Capacity
Btuh

EER
Btuh/W

Capacity
Btuh

COP

Capacity
Btuh

EER
Btuh/W

Capacity
Btuh

COP
QE0930
Full
24,000
20.5
24,000
3.6
24,000
33.3
24,000
4.5
Part
12,000
42.1
12,000
4.9
12,000
53.9
12,000
5.5
QE1860
Full
48,000
21.6
48,000
3.6
48,000
34.3
48,000
4.7
Part
24,000
40.2
24,000
5.0
24,000
51.9
24,000
5.9